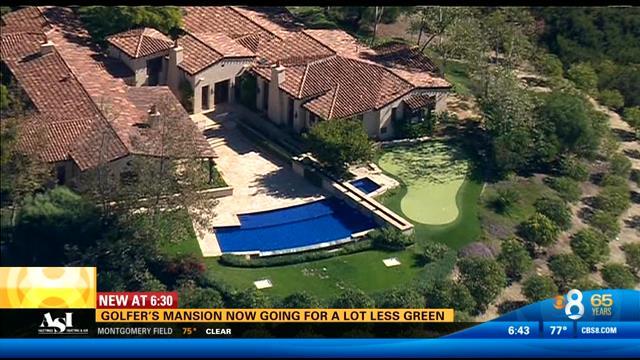 Pro golfer Phil Mickelson is taking another swing at selling his Rancho Santa Fe home, and compared to what he's asked for in the past, you could say the latest sale price is a bargain.
As the PGA champ dominates the green, anyone out there with enough green could call the golf superstar's Rancho Santa Fe estate their new home for a mere $6 million. That's less than half of what Mickelson was asking for his lavish 4 1/2-acre, five-bedroom, 6 1/2-bath Italian-style property back in 2008.
The single-story, 9,176 square-foot home boasts walnut flooring, hand-laid mosaic tiles and seven fireplaces, and includes a chef's kitchen, a massive family room, spa bath and a master suite with its own juice bar.
Outside, there's an impressive pool with cobalt-blue tiling, a landscape dotted with olive, pepper and citrus trees, two detached casitas, five garages, and — of course — a putting green.
Last year, the 44-year-old found himself dealing with a torrent of criticism when he suggested that higher taxes are driving him out of California, comments that drew shots from the media and the public.
"I've made some dumb, dumb mistakes and obviously talking about this stuff is one of them," Mickelson said.
"Lefty" is now letting his real estate agent do the talking, as he attempts once again to unload this massive mansion at what might be considered by some, but not many, as a bargain price.