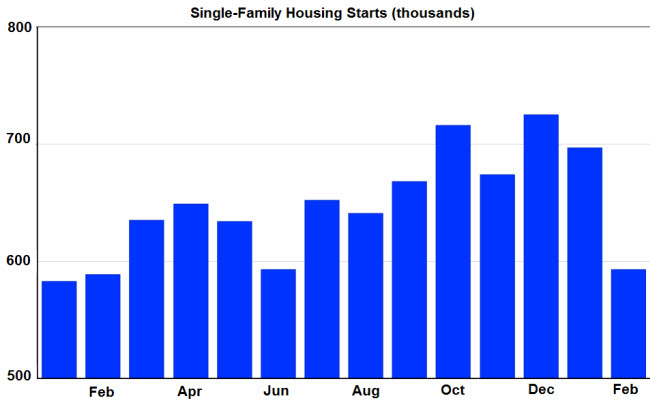 Bond-friendly comments from the Fed on Wednesday caused mortgage rates to improve. Weaker-than-expected economic data was also favorable for mortgage rates over the past week. As a result, rates ended the week lower.
The Fed statement dropped the word "patient". This provides the Fed with the flexibility to raise the federal funds rate any time beginning in June. However, Fed officials also increased the requirements to raise rates and lowered their forecasts for economic growth and inflation. According to the statement, Fed officials want to see further improvement in the labor market and want more confidence that inflation will reach their target rate of 2.0% before raising rates. The statement accomplished the Fed's goal of tying rate hikes more closely to the performance of the economy rather than a calendar date. Investors pushed expectations for rate hikes farther into the future.
Supporting the Fed's economic outlook, recent data has indicated that economic activity slowed in February. Retail Sales unexpectedly posted a third straight monthly decline, while single-family Housing Starts dropped 17%. The details of the two reports made it clear that unusually bad winter weather played a significant role in the weak results. The question is to what degree consumers and home builders simply postponed activity. Investors will be watching to see if pent-up demand boosts the data in coming months.
Looking ahead, we will receive additional readings on the strength of the economy in February, including Existing Home Sales on March 23 and New Home Sales on March 24. Durable Orders, an important indicator of economic activity, will come out on March 25. The Consumer Price Index, the most widely followed inflation indicator, is also scheduled for March 24.